Europa Universalis 4 Wiki

Third Rome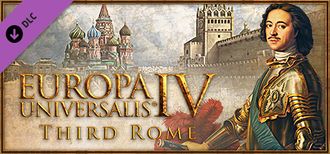 ---
Type
---
Release date / Patch
---
Store: Immersion pack
---
Store: Music pack
Third Rome is the 1st immersion pack for EU4. It was announced on 2017-05-12[1]. It was released on 2017-06-14[2], coinciding with patch 1.22.
Expansion features
Edit
Tsardoms and Principalities: New ranks of Russian government with new abilities and, for Tsars, strong bonuses including the right to claim entire states.
Iconography: Commission great religious icons for the Orthodox church, boosting your empire's power depending on the saint you choose to revere.
Metropolitans: Consecrate highly developed provinces with Metropolitans, adding to the authority of the Orthodox church, but for a cost.
Streltsy: Special Russian soldiers that excel in combat, but raise the cost of stabilizing your empire.
Siberian Frontier: Russian nations can slowly colonize uninhabited border regions, with no fear of native uprisings.
New Russian Missions: Exclusive mission trees for Russia/Muscovy, Novgorod, and Russian Principalities.
Third Rome Content Pack: Adds 48 new unit models to nations in and around the Russian borders.
Free features
Edit
Dev diaries
Edit
Main article: Developer diaries

All developer diaries about the Third Rome immersion pack and patch 1.22 (aka Russia).
Patch 1.22 (Russia)
| No. | Title and Link | Description | Date |
| --- | --- | --- | --- |
| 10 | EU4 Sound Effects | David, the sound designer, on complementing the EU4 interface with the right sound effects | 2017-06-27 |
| 9 | Changing of the Guard | Anna "Anona" Norrevik on changes within the team and introduction of the new project lead Linda "Fogbound" Tiger | 2017-06-20 |
| 8 | Third Rome Update | The Third Rome (1.22) changelog | 2017-06-13 |
| 7 | Custom Nation Designer and Achievements | Jake explains the novelties in the nation designer and introduces new achievements (from his balcony) | 2017-06-06 |
| 6 | Icons and Metropolitans | Jake elaborates on the expanded mechanics for the followers of the Orthodox faith | 2017-05-30 |
| 5 | Tsardom | New government type comes with new abilities | 2017-05-23 |
| 4 | Russian and Cossacks Changes | New government types and abilities for the Russian regions in addition to new content for previous expansions | 2017-05-16 |
| 3 | The Russian Principalities | Trin Tragula, EU4's content designer, reveals setup changes in the Greater Russian region coming in 1.22 | 2017-05-09 |
| 2 | Bonus Development Diary | Sneak peek at features for 1.22, including Press Sailors subject interaction and changes for blockades, marches, Aristocracy ideas, and Buddhism | 2017-05-05 |
| 1 | Historical Research | Trin Tragula, EU4's content designer, on the process of historical research done with EU4 and its expansions | 2017-05-02 |
References
Edit