Rule Britannia
Jump to navigation
Jump to search

Rule Britannia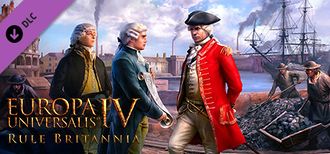 ---
Type
---
Release date / Patch
---
Store: Immersion pack
Rule Britannia is the 2nd immersion pack for Europa Universalis IV. It was announced on 2018-02-06[1] and was released on 2018-03-20[2]. Its release coincides with patch 1.25.
New British and Gaelic Missions: New exclusive mission trees for England, Scotland, and Ireland.
Industrial Revolution: Highly developed provinces may produce coal in the late game, fueling higher productivity and greater wealth.
Innovativeness: Earn rewards for being the first nation to unlock new knowledge, including lower power costs.
Naval Doctrine: Adopt a general strategy for your fleets, giving you bonuses to ship maintenance, trade power or battle performance.
Anglicanism: A new Protestant faith can appear in England with new bonuses and religious choices.
Knowledge Sharing: Help your lagging allies or subjects by promoting the spread of institutions in their realms.
New Unit Pack: New unit models for British and Gaelic nations, including regional Irish units and revolting nations like Northumberland or Cornwall.
New Music: Our composers have been hard at work writing new songs to quiet the stormy seas of commerce.
Reworked old mission system to mission trees.
Expanded map of the British Isles, the Low Countries and northern France.
Added new playable/revolter tags to the British Isles.
Added new national ideas to British Isles and Low Countries.
Main article: Developer diaries

All developer diaries about the Rule Britannia immersion pack and patch 1.25 (aka England).
Patch 1.25 (England)
| No. | Title and Link | Description | Date |
| --- | --- | --- | --- |
| 12 | Upcoming Hotfixes | Digesting various bug reports and plans further ahead | 2018-03-27 |
| 11 | England Update | Changelog for 1.25 England Update | 2018-03-19 |
| 10 | New Achievements | New achievements available for unlocking in 1.25 patch | 2018-03-13 |
| 9 | Unit Preview | 3D artist Carlberg on New models for Irish minors, Ireland, Scotland, Brittany, revolter tags and a teaser for the music included into the immersion pack | 2018-03-06 |
| 8 | Naval AI changes and Irish ideas | Tackling issues and solutions with the naval AI along with some new national ideas for even more Irish nations | 2018-02-27 |
| 7 | Trade Steering, Naval Doctrines and the Low Countries | New diplomatic and peace option, new possibilities for navies and new national ideas for the Low Countries nations | 2018-02-20 |
| 6 | Unique Missions for the Isles | Unique mission trees added for nations on the British Isles and a modding guide for the new mission system by mikesc | 2018-02-13 |
| 5 | Innovativeness and Knowledge Sharing | New additions to technology advancement in the Rule Britannia immersion pack | 2018-02-06 |
| 4 | Anglican Church and Industrialization | A unique Christian denomination to appear on the British Isles and the emergence of "latent resources" | 2018-01-30 |
| 3 | Mission Trees | DDRjake, EU4's game director, and the tale of the reworked mission system | 2018-01-23 |
| 2 | Around the English Channel | Trin Tragula, EU4's content designer, details the map changes made to the regions surrounding the English Channel | 2018-01-16 |
| 1 | 2018 and EUIV | Firebolt speaks on the role of a product manager, immersion packs, and EU4 plans for 2018 | 2018-01-09 |