Rights of Man
Jump to navigation
Jump to search

Rights of Man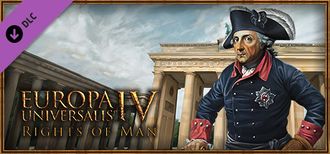 ---
Type
---
Release date / Patch
---
Store: Expansion
---
Store: Content pack
---
Store: Music pack
Rights of Man is the ninth expansion for Europa Universalis IV. It was announced on 2016-08-19[1]. It was released on 2016-10-11[2]. The expansion coincides with Patch 1.18.
Expansion features
Fetishist nations can choose from a number of cults, uncovering new options as they wage war and make alliances
Coptic nations will be tasked with preserving their faith through the control of 5 holy sites throughout the near east
Ruler Personalities gives rulers specific traits that grant bonuses or penalties
Leader Traits giving battle hardened commanders added prowess
Queen/King Consorts and Consort-Regencies
More detailed military instructions for Subject Nations
Revolutionary republics now have Factions to balance
Ottoman Empire gets new Harem Politics events and options
Special Prussian Monarchy government type
Great power mechanic grants special bonuses to the strongest nations
Free features
Major overhaul of the technology system – technology groups no longer affect research, a concept called 'institutions' will affect technology research now
Greater control over adopting new cultures in your empire
Added the Braindead Player AI setting to completely disable AI takeover if a player disconnects.
When in a Succession War, the attacker can now demand Cancel Subject on the Country in question as part of the war goal.
Dev diaries
Main article: Developer diaries

All developer diaries about the Rights of Man expansion, patch 1.18 (aka Prussia) and patch 1.19 (aka Denmark).
Patch 1.19 (Denmark)
| No. | Title and Link | Description | Date |
| --- | --- | --- | --- |
| 24 | 1.19 Beta Feedback | We've reverted the Fort Zone of Control changes planned for 1.19 | 2016-11-22 |
| 23 | New Unit Models for Vanilla | Carlos shares the story of how he decided to remake the vanilla unit models | 2016-11-15 |
| 22 | UI Improvements | Interface improvements coming in the "Denmark" (1.19) update | 2016-11-08 |
| 21 | Fort Zone of Control | Changes to Fort ZoC in 1.19 and some other things | 2016-11-01 |
| 20 | Denmark | 1.19, aka Denmark, brings enhancements to Scandinavian nations and more rules for AI/player replacement (in MP) | 2016-10-25 |
| 19 | Post Release Evaluation | What the team like best with Rights of Man + 1.19 teaser | 2016-10-18 |
Patch 1.18 (Prussia)
| No. | Title and Link | Description | Date |
| --- | --- | --- | --- |
| 18 | Wrapping Teasers | Last 1.18 teasers: an addition to El Dorado, launcher improvements, 20 new achievements and new national ideas | 2016-10-04 |
| 17 | Balance Changes in Patch 1.18 | A look at the most important balance changes with a quick explanation on why they were made | 2016-09-27 |
| 16 | 1.18 updates older expansions | 1.18 brings some overhauls to old expansion features | 2016-09-22 |
| 15 | Bodycount & Minimap Improvement | Bodycount screens coming at the end of wars, and you can now see armies on the minimap | 2016-09-15 |
| 14 | Revolutionary Republics Factions | New factions for Revolutionary Republics in the Rights of Man | 2016-09-08 |
| 13 | Prussian Monarchy | Prussian Monarchy, Disinherit, Abandon PU, Debase Currency and Strengthen Government | 2016-09-01 |
| 12 | Subjects Interactions | New Military Focuses for Subjects & new Subjects Interface | 2016-08-25 |
| 11 | Cults | Cults are coming to the Fetishists in the next expansion | 2016-08-18 |
| 10 | A Queen Regent | Changes to regencies: war declarations and queen regents | 2016-08-11 |
| 9 | Coptic Holy Sites | A new blessings and holy cities system for Coptics | 2016-08-04 |
| 8 | Leader Traits | Introduction of traits for land and naval leaders | 2016-06-30 |
| 7 | The Ottoman Sultanate | The Ottomans get some unique flavor in the upcoming expansion | 2016-06-23 |
| 6 | Ruler Personalities | The next expansion will introduce character traits to your ruler | 2016-06-16 |
| 5 | Great Powers | With the next expansion Great Powers will be introduced | 2016-06-09 |
| 4 | Culture | Changes to how accepted Culture will work in 1.18 | 2016-06-02 |
| 3 | Technology Groups | Changes to technology groups and technological development | 2016-05-26 |
| 2 | DLC production | The DLC producer explains the development process | 2016-05-19 |
| 1 | Future | What do we want from the future of the game? | 2016-05-12 |
References