Prussia
Jump to navigation
Jump to search

Prussia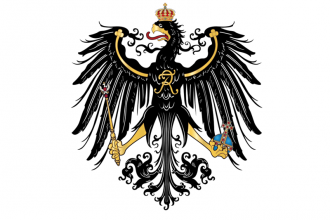 ---
Primary culture
Prussian (Germanic)
---
Capital province
Königsberg (41)
---
Government
Prussian Monarchy

---
State religion
Protestant

---
Technology group
Western


Traditions:
+0.5 Yearly army tradition
−10% Aggressive expansion impact
---

Legacy of the Teutonic Knights
−10% Stability cost modifier
+1 Tolerance of the true faith
---
The Soldier-King of Prussia
−1% Yearly army tradition decay
---

Army Professionalism
+20% Morale of armies
---

Noble Cadets
+10% Nobility loyalty equilibrium
---

The Goose Step
+20% Infantry combat ability
---

Regimental Cantons
+25% National manpower modifier
−10% Recruitment time
---

Religious Toleration
−5% Development cost
+1 Tolerance of heretics
---

Ambition:
+5% Discipline
For the region, see Prussia (region).
Prussia (German: Preußen) is one of the formable countries in Europe and can be formed by Brandenburg, the Teutonic Order, or any country with Prussian, Saxon, or Pomeranian culture (besides Germany and a unified, centralised Holy Roman Empire). It also exists in campaigns started in 1525 or later. Prussia is a powerful military state with strong morale, discipline and tradition; enough to ensure strong generals in commanding large armies, well-trained troops in aforementioned armies and good military rulers.
If played correctly, Prussia can dominate Central Europe and the rest of the HRE. Prussia is considered one of the more advanced nations due to the difficult requirements and challenges that must be overcome to form, therefore it is not recommended for beginners. However, once inner quarrels are settled and the homeland is secured it can easily become one of the most entertaining yet still challenging nations. Prussia can also play a decisive role in the League Wars.
Prussian monarchy
The Prussian Monarchy is a unique government type available only for Prussia. This government gives all rulers +3 in

military skill. This means that no ruler can be below 3 in

military skill, giving a major advantage in military power income. It also has a unique system that gives bonuses the more militarized the nation gets on a scale of 0-100%, where army tradition, legitimacy and negative stability increase militarization, while each province owned decreases it. At 100%

militarization of the state the country will gain +10%

discipline, −20%

army maintenance cost, and +20%

manpower recovery rate. It is also possible at any time to spend 50

military power to gain 10

militarization. It is meant for the player to play "tall", developing their lands and not waging wars for expansion, since it gives a penalty for the number of owned provinces.
Having this government also ensures:
Note: The Prussian monarchy doesn't set a minimum of 3 military for rulers, but directly increases their MIL stat by 3. Due to the way ruler stats are calculated this gives you a 5/8 or a 62,5% chance of getting a 6 MIL ruler.
Monthly militarization is affected by the following
| | Triggers |
| --- | --- |
| +0.10 | Army tradition (at 100%) |
| +0.05 | Negative stability (per point) |
| +0.025 | Legitimacy (at 100%) |
| +0 | Legitimacy (at 50%) |
| -0.015 | Per province |
| -0.025 | Legitimacy (at 0%) |
| -0.25 | Bankruptcy |
Formation
There are three possible decisions that form Prussia. One is for the

Teutonic Order, and is based on the secularization of that order into the Duchy of Prussia in 1525. One is for

Brandenburg, based on the Electors of Brandenburg, having inherited the Duchy of Prussia, crowning themselves King in Prussia in 1701. The last is for any Prussian, Saxon or Pomerian German minor, representing another German prince taking the path that Brandenburg did historically. Note that the latter two decisions will elevate the nation to kingdom rank and will consequently make it leave the Holy Roman Empire unless it is an elector.
Form Kingdom of Prussia
---
There is only one king in the Empire, the king of Bohemia. At the same time our lands in Prussia are not a historic part of the Empire, let us declare ourselves King in Prussia to reflect our grander status than the other electors.
---
Potential requirements

This country:

Allow

---

Effects

Change country to Prussia
Change primary culture to Prussian
If duchy, set government rank to kingdom
Gain a permanent claim on all not owned provinces of the West and East Prussian areas.
Change culture to Prussian in:
A random owned province with Pomeranian, Saxon or Prussian culture:
---
Forming Prussia as Brandenburg
Reform into Prussia
---
The age of crusading knights is fading fast. There will come a time when we no longer stand to gain by holding on to the trappings of a monastic order. Besides, the Grandmaster would much rather be a Duke... or King. By reforming into a secular state, we can revitalize our administration and gain the respect of our neighbors.
---
Potential requirements

This country:

If this country is AI-controlled then:

this country is not former colonial nation.

Allow

The Teutonic Order:

---

Effects
---
Forming Prussia as Teutonic Order
Reform into Prussia
---
The territories once conquered and Germanized by the Teutonic Order will always need protection against rapacious neighbors. Should the Order fail in this duty, we can take their place and usher in a new era of prosperity and Prussian discipline.
---
Potential requirements

This country:

Allow

---

Effects
---
Forming Prussia as other countries
Missions
Main article: Prussian missions

Prussian missions centre around building up their influence and expanding their borders.
Events
Main article: Brandenburg-Prussian events

Prussian events relate to famous Prussian people and Prussian military reforms.
Strategy
Although it is possible to form Prussia with a number of different nations, the two most common also happen to be the two easiest:
Forming Prussia as the Teutonic Order is fairly straightforward, as you already own all the lands required.
The main challenge as the Teutonic order is surviving the combined onslaught of Poland and Lithuania. This task is made difficult by the fact that you will have very few natural allies. Only the Livonian Order will consistently ally you at the start of the game; all other allies arise situationally, depending on who the nearby AI neighbors choose to rival. The best case scenario is an alliance with Austria. However, good luck with that, as the other HRE nations usually rush to ally them. Hungary will also suffice. If you can't get either of those, two other mid-sized allies, such as Bohemia and Brandenburg, might be enough.
Another option is to join the HRE, after allying with the Livonian Order. This gives you protection from the Emperor, protection against Poland and Lithuania, and an ally on the outside of the HRE. Don't worry about the Livonian Order pulling you into a war against the PLC, you should use it as a chance to liberate part of West Prussia and take Mazovia away from them. Also on matters outside of the HRE you should look after the Baltic, Novgorod, and Lübeck Trade Nodes;this means acquiring territory from Denmark and their vassals. The islands Åland, Gotland, and Bornholm are a good place to start, by building forts on those islands you establish control over the Baltic Sea. Eventually you'll want to take Neva and Lübeck to cement control over these nodes as well as the rest of the Denmark Area (Not the Country). From these wars you will also want to take Iceland and other territory from Norway to give you ports to colonize from, the power they give you in the North Sea Node doesn't hurt either. Also force Denmark to Release Finland and Sapmi, as this gives you and the Livonian Order allies against Muscovy and Novgorod which will try to take over the Novgorod trade nod. Finally, the Livonian order is your most important ally outside of the HRE. Keep feeding them so they can survive to form Kurland and keep Muscovy/Russia away from your eastern borders.
Inside the HRE, be careful who you ally. You will want to expand as far west as Holland to take advantage of the English Channel, all the more important if you plan on breaking history and establishing Teutonic/Prussian colonies in North America. Also to keep in mind is what the end game is in regards to the HRE. Prussia is in a strong position to form Germany, in which case you should try to eventually break up the HRE. A more challenging path is to become Emperor and partially or fully solidify the HRE through Imperial Reforms. If you choose the latter there is a lot you need to keep in mind. Brandenburg is a good target for expansion, besides Pomerania which is also essential. But, Brandenburg is an Elector as is their neighbor Saxony. By maxing out the Emperor's (Austria) opinion of you and allying them, you increase the chance of becoming an elector yourself after you absorb one or two of them. Another thing to keep in mind in the HRE is the Shadow King event that has Northern Italy leave the HRE in about 1490 if the land that the Papal States, Urbino, and Venice (But not the city itself) controls is not returned to rule under the HRE. While it may be difficult, use any opportunity to get this land back into the HRE, especially if you want to take the route to reform the HRE. If you became an elector and then became Prussia then this sets you up to be the leader of the Protestant League. While inside the HRE keep expanding North and West to gain power in important trade nodes, you should seek to control the entire North Germany region plus the Netherlands.

Brandenburg is the other main contender for Prussia, and they face an opposite challenge: their starting position is much more stable, due to being an elector in the HRE; however, they don't own any of the lands required to form Prussia.
Fortunately, the game usually provides missions to encourage you to expand in the correct direction. An early mission gives you a claim on Neumark, if the Teutons haven't already sold it to you for 100 ducats in the random event. The following mission gives you claims on Stolp and the other adjacent Pomeranian province. From there, you border Teutonic lands and can usually beat them easily, with their lack of strong alliances.
Brandenburg's alliance opportunities are very robust. You can almost always get Bohemia as an ally, assuming they don't rival you. Austria and/or Hungary are also much more feasible for Brandenburg to get.
One idea is to simply avoid fighting Poland at all. The lands you require are on the coast of the Order; Poland usually conquers them beginning from the southern border. So you may enter into a race to annex the Teutons.
You will eventually come into conflict with Poland. Bohemia will be a big help in this fight, as they usually put claims on Poland after annexing their vassal, Silesia. Just wait until Poland/Lithuania come into conflict with someone else, like the Ottomans, and then backstab them and give 'em the business.
Note of advice, try to always ally the Emperor. It will allow you to conquer HRE lands without getting the demand to return unlawful territory.
Prussia can be difficult in colonization, but it is doable. Your first move should be to expand towards and move your Main Center of Trade to the English Channel or Lübeck. Do this by taking over the Netherlands. If you plan on doing this, also take Iceland and parts of Norway as that is easier to do earlier on than taking the Nethlands which will take awhile and earn you the ire of the HRE. If you can't expand West or you want to take another path then focus on the East. You'll have to expand your colonization and trade ranges a lot, but the Baltic Sea Node has a lot of eastern trade moving into it. This means Trade Companies in China, India, Indonesia, and the Philippines; and colonies in California, Alaska, Mexico, and Australia. Finally, Australia can be your best colony as you can either move trade through Asia or use the Philippines to rebound trade through Central America, Caribbean, and American East Coast Trade nodes into the English Channel or even into Lübeck if you can't acquire the Netherlands.
One last note, Greenland & Bermuda can be great stepping stones to establish colonies in the East ahead of your stronger European neighbors, this may entail establishing a few other outpost or throwaway colonies.
Achievements

Form Prussia and have at least 125% discipline.
| | |
| --- | --- |
| Nomadic technology group | |
| | |
| --- | --- |
| West African technology group | Air Mali |
| | |
| --- | --- |
| Mesoamerican technology group | Maya |
| | |
| --- | --- |
| South American technology group | Mapuche |