Prussia
Jump to navigation
Jump to search

Prussia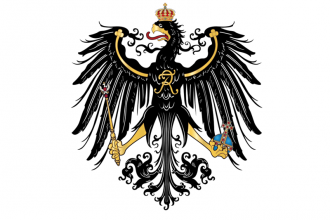 ---
Primary culture
Prussian (Germanic)
---
Capital province
Königsberg (41)
---
Government
Prussian Monarchy

---
State religion
Protestant

---
Technology group
Western


Traditions:
+0.5 Yearly army tradition
−10% Aggressive expansion impact
---

Legacy of the Teutonic Knights
−10% Stability cost modifier
+1 Tolerance of the true faith
---
The Soldier-King of Prussia
−1% Yearly army tradition decay
---

Army Professionalism
+20% Morale of armies
---

Noble Cadets
+10% Nobility loyalty equilibrium
---

The Goose Step
+20% Infantry combat ability
---

Regimental Cantons
+25% National manpower modifier
−10% Recruitment time
---

Religious Toleration
−5% Development cost
+1 Tolerance of heretics
---

Ambition:
+5% Discipline
For the region, see Prussia (region).
Prussia (German: Preußen) is one of the formable countries in Europe and can be formed by Brandenburg, the Teutonic Order, or any country with Prussian, Saxon, or Pomeranian culture (besides Germany and a unified, centralised Holy Roman Empire). It also exists in campaigns started in 1525 or later. Prussia is a powerful military state with strong morale, discipline and tradition; enough to ensure strong generals in commanding large armies, well-trained troops in aforementioned armies and good military rulers.
If played correctly, Prussia can dominate Central Europe and the rest of the HRE. Prussia is considered one of the more advanced nations due to the difficult requirements and challenges that must be overcome to form, therefore it is not recommended for Beginners. However, once inner quarrels are settled and the homeland is secured it can easily become one of the most entertaining yet still challenging nations. Prussia can also play a decisive role in the League Wars.
Formation
There are three possible decisions that form Prussia. One is for the

Teutonic Order, and is based on the secularization of that order into the Duchy of Prussia in 1525. One is for

Brandenburg, based on the Electors of Brandenburg, having inherited the Duchy of Prussia, crowning themselves King in Prussia in 1701. The last is for any Prussian, Saxon or Pomerian German minor, representing another German prince taking the path that Brandenburg did historically. Note that the latter two decisions will elevate the nation to kingdom rank and will consequently make it leave the Holy Roman Empire unless it is an elector.
Form Kingdom of Prussia
---
There is only one king in the Empire, the king of Bohemia. At the same time our lands in Prussia are not a historic part of the Empire, let us declare ourselves King in Prussia to reflect our grander status than the other electors.
---
Potential requirements

This country:

Allow

---

Effects

Change country to Prussia
Change primary culture to Prussian
If duchy, set government rank to kingdom
Gain a permanent claim on all not owned provinces of the West and East Prussian areas.
Change culture to Prussian in:
A random owned province with Pomeranian, Saxon or Prussian culture:
---
Forming Prussia as Brandenburg
Reform into Prussia
---
The age of crusading knights is fading fast. There will come a time when we no longer stand to gain by holding on to the trappings of a monastic order. Besides, the Grandmaster would much rather be a Duke... or King. By reforming into a secular state, we can revitalize our administration and gain the respect of our neighbors.
---
Potential requirements

This country:

If this country is AI-controlled then:

this country is not former colonial nation.

Allow

The Teutonic Order:

---

Effects
---
Forming Prussia as Teutonic Order
Reform into Prussia
---
The territories once conquered and Germanized by the Teutonic Order will always need protection against rapacious neighbors. Should the Order fail in this duty, we can take their place and usher in a new era of prosperity and Prussian discipline.
---
Potential requirements

This country:

Allow

---

Effects
---
Forming Prussia as other countries
Missions
Main article: Prussian missions

Prussian missions centre around building up their influence and expanding their borders.
Events
Main article: Brandenburg-Prussian events

Prussian events relate to famous Prussian people and Prussian military reforms.
Prussian Monarchy
The Prussian Monarchy is an unique government type avaiable only for Prussia, this government ensures that all rulers have at least 3 in military skill, it alsohas a unique system that gives bonuses the more militarized the nation gets, this has a rating of 0-100%, where army tradition and legitimacy increases it, while each province you own decrease it. At 100 % militarized society, the country will gain +10% discipline, 33% cheaper army maintenance and 33% quicker manpower recovery.It is possible also at any time spend 50 military power to gain 10 militarization and it is meant for the player to play "tall", developing their lands and not waging wars for expansion, since it gives a penalty for the number of owned states.
Having this government also ensures:
Strategy
| | |
| --- | --- |
| Nomadic technology group | |
| | |
| --- | --- |
| West African technology group | Air Mali |
| | |
| --- | --- |
| Mesoamerican technology group | Maya |
| | |
| --- | --- |
| South American technology group | Mapuche |