Lions of the North
Jump to navigation
Jump to search

Lions of the North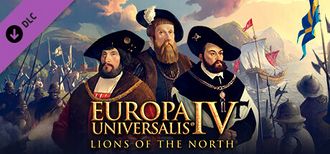 ---
Type
---
Release date / Patch
---
Store: Immersion pack
Lions of the North is the 5th immersion pack for Europa Universalis IV. It was announced on 2022-08-25[1] and was released alongside patch 1.34 on 2022-09-13.
Lions of the North adds new mission trees and historical options for a number of Baltic Sea nations. Many of these options include new "branching missions" which allow greater variety and replayability as you explore different alternate histories through the decisions you make.
New mission trees for:
Unique Government Reforms: New government reform options for many nations in the area.
New Unit Types: Recruit Swedish Carolean infantry and Polish-Lithuanian Winged Hussars under certain conditions.
New Estate Privileges for regional powers.
New Unit Sprites: 35 new pieces of unit art for Scandinavian and Baltic nations.
New Music: 3 new Scandinavian themed songs and 3 new Baltic themed songs.
Main article: Developer diaries

All developer diaries about the Lions of the North immersion pack and patch 1.34 (aka Sweden).
Patch 1.34 (Sweden)
| No. | Title and Link | Description | Date |
| --- | --- | --- | --- |
| 21 | 1.34.5 | Minor patch to facilitate the launch of Europa Universalis IV on GOG | 2022-11-23 |
| 20 | 1.34.4 Sweden is now LIVE! | 1.34.4 changelog | 2022-10-13 |
| 19 | 1.34.3 Sweden Changelog | 1.34.3 changelog | 2022-09-22 |
| 18 | Post Release & Norse Easter Egg | Questions about Norse content in Lions of the North | 2022-09-20 |
| 17 | 1.34 Sweden Changelog | 1.34 changelog | 2022-09-06 |
| 16 | 1.34 Achievements | New achievements, modding additions, and idea group changes for patch 1.34 | 2022-08-09 |
| 15 | Scandinavian Unit Models | Scandinavian Unit Pack reveal | 2022-08-02 |
| 14 | 1.34 Monuments | Eight new monuments, idea groups and policies rebalance, crownland and government reform progress, government capacity, and other miscellaneous changes for patch 1.34 | 2022-07-26 |
| 13 | 1.34 AI Improvements | AI changes and adjustments for patch 1.34 | 2022-07-19 |
| 12 | Finland | Mission trees and events for Finland and Lübeck along with updated theocracy reforms | 2022-07-12 |
| 11 | Gotland | Mission tree and events for Gotland | 2022-07-05 |
| 10 | Commonwealth | Mission trees and events for Poland, Lithuania, and the Commonwealth along with new Winged Hussar units | 2022-06-28 |
| 9 | Scandinavia | Mission tree, events, and national ideas for Scandinavia along with updated monarchy and republic reforms | 2022-06-21 |
| 8 | Norway | Mission tree and events for Norway | 2022-06-14 |
| 7 | The Rise of Sweden | Mission tree and events for Sweden along with new Carolean and Hakkapeliitta units | 2022-06-07 |
| 6 | 1.34 Denmark | Mission tree, events, and national ideas for Denmark along with new naval doctrines for Rule Britannia owners | 2022-05-31 |
| 5 | 1.34 Combat | Land combat changes for patch 1.34 | 2022-05-24 |
| 4 | Riga | Mission tree and events for Riga | 2022-05-17 |
| 3 | The Livonian Order | Mission tree and events for the Livonian Order | 2022-05-10 |
| 2 | The Teutonic Order | Mission tree and events for the Teutonic Order | 2022-05-03 |
| 1 | 1.34 Roadmap | Roadmap for development of the next update | 2022-04-26 |