Ireland
Jump to navigation
Jump to search

Ireland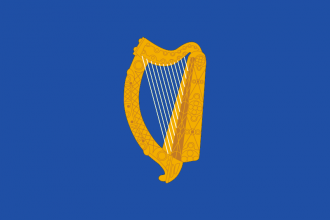 ---
Primary culture
Irish (Celtic)
---
Capital province
Meath (373)
---
Government
Feudal Monarchy

---
State religion
Catholic

---
Technology group
Western

Ireland is a formable nation in the British Isles. It is usually created from one of the twelve 1444-starting Irish OPMs, and is a good step up for them. Unlike many other formable nations, however, it does not guarantee being anything more than a regional power. With only nine provinces that the formation affects, Ireland can be one of the weaker nations. That said, it does have a chance to be strong, especially in the New World.
Formation
Form Irish Nation
Please help with verifying or updating this infobox. It was last verified for

version

1.22.
---
For decades England has attempted to subjugate the Irish population and take control of the island. To unite the Irish lands under a sole flag may be our only chance to repel them.
---
Potential requirements

Ireland does not exist.
The country:

If the country is AI-controlled,

it can not be a former colonial nation.
it must have at least 3 cities.

Allow

The country:

---

Effects

The country:

changes to Ireland.
gets kingdom rank if the country is duchy rank.
gets the modifier "Increased Centralization" for 20 years with the following effects:
Achievements

Own and have cores on the British Isles as an Irish nation.
| | |
| --- | --- |
| Nomadic technology group | |
| | |
| --- | --- |
| West African technology group | Air Mali |
| | |
| --- | --- |
| Mesoamerican technology group | Maya |
| | |
| --- | --- |
| South American technology group | Mapuche |