Idea groups
Jump to navigation
Jump to search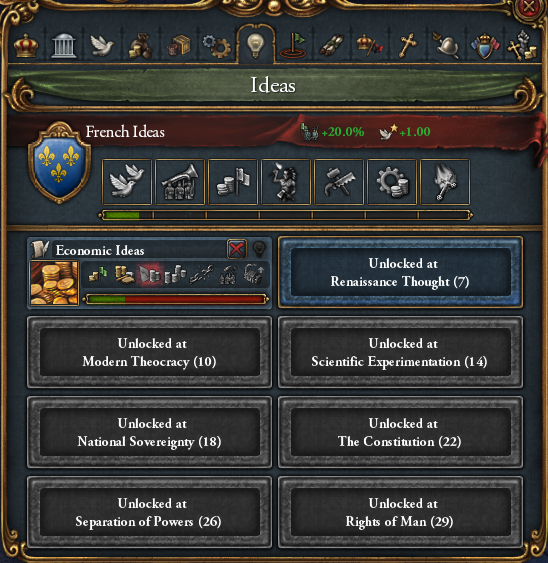 For the ideas of individual countries, see national ideas.

For the ideas of American natives, see native ideas.

For the practical guide on idea groups, with analysis and recommendations, see Idea groups guide.

As a nation develops technologically, it unlocks the ability to gain additional idea groups. Investing into a full idea group can take a long time and cost several decades worth of power. The act of choosing at any point of time a certain idea group over the other and advancing in it represent the time and focus nations choose to spend historically along certain administrative, diplomatic, and military specializations.
Please help with verifying or updating this section. It was last verified for

version

1.31.
Each nation can have up to 8 idea groups from a pool of 19 groups (only 18 are shown as the Aristocratic and Plutocratic idea groups are locked behind exclusive government reforms). Idea group choice is only restricted by the requirement for a balanced mix of groups: No more than half of a nation's chosen idea groups, whether completed or not, can have the same associated type of

monarch power.[1] This limit can be turned off in options before starting a game without disabling achievements.
Idea group choices are unrestricted, with several exceptions: Plutocratic ideas are enabled for most republics but disabled for most other government types; Aristocratic ideas are disabled for most republics but enabled for most other government types; Divine ideas are enabled only for theocracies; Horde Government ideas are enabled only for steppe nomads; Indigenous ideas are enabled only for native tribes and Maritime and Naval ideas are disabled for primitives. However, AI nations have weights assigned to the idea groups to make their choices random but still somewhat historical.
Each idea group consists of 7 ideas. Advancing within an idea group is done sequentially and each unlocked idea enhances a particular aspect of the nation. Unlocking the last idea in the group also unlocks the group's bonus.
New idea group slots are unlocked with the advancement in

Administrative technology as described below:
| Administrative tech level | 5 | 7 | 10 | 14 | 18 | 22 | 26 | 29 |
| --- | --- | --- | --- | --- | --- | --- | --- | --- |
| Number of idea groups | 1 | 2 | 3 | 4 | 5 | 6 | 7 | 8 |
| Year in which the technology loses its ahead of time penalty | 1453 | 1479 | 1518 | 1570 | 1622 | 1674 | 1730 | 1775 |
Abandoning an idea group can be used to free up an idea slot if it no longer serves the nation and there may be others more suitable groups that do so. It is important to note, however, that doing so will result in losing all the given bonuses from said idea group and will only refund 10% of the

monarch power points invested in the group[2]. Discarding idea groups will also impact the number of Ideas a nation has towards unlocking National Ideas and Ambitions.
Due to the low refund rate and the importance of monarch power points, picking an idea group should be done with its future usefulness to the nation in mind. However, this option should not be disregarded either as it is extremely useful in the right circumstances. For example:
Primitives can take only the first 3-4 Exploration ideas, get a colonial border with a western power, then drop Exploration for something else. Some would benefit more from the Expansion idea group; but Expansion doesn't allow Explorers or long-range island-hopping. They could even opt out of colonization altogether after getting the border they needed.
Each unlocked idea grants a

−2% Technology cost reduction. The reduction can result in up to −14% for a fully unlocked idea group (without accounting for further reductions that may be applied from the ideas themselves). The type of the reduction depends on the affiliation of the idea group; for example, the

Diplomatic idea group grants

Diplomatic tech cost reduction.
Being the first nation to unlock an idea or unlocking an idea within 365 days after it is first unlocked gives a nation a base of +2

innovativeness.
Main article: Policies

Policies become enabled when a pair of 2 idea groups are fully unlocked. Picking a

policy provides a bonus to the nation at the monthly cost of 1 monarch power per policy (type of monarch power used depends on policy affiliation) if the limit is overwhelmed (base: 1 policy of each type can be picked for free) . Once picked, a policy cannot be canceled for a duration of

10 years. There is no restriction on policy composition and a nation can activate up to 9 policies at a time, 3 per type.
Please help with verifying or updating this section. It was last verified for

version

1.30.
Unlocking an idea has a base

idea cost of

400 monarch power[3] (the type of power depending on the idea group).
The base

idea cost is modified by the following:
Ideas and policies:
Traditions
Ideas
Bonuses
Policies
−10%

Aztec traditions
Bregenzer traditions
Farsi traditions
Great Ming traditions
Incan traditions
Rostov traditions
Sardinian traditions
Sardinian-Piedmontese traditions
Urbinate traditions

Indigenous idea 6: Trade with Foreigners

American Southwest idea 1: The Old Tales
Andalusian idea 4: Legacy of Ibn Arabi
Antemoro idea 2: Sorabe
Aymaran idea 1: Legacy of Tiwanaku
Bahmani idea 7: Great Madrasa of the Deccan
Bengal Sultanate idea 4: Attract Sufi Scholars
Brunswicker idea 4: Herzog August Library
Central Algonquian idea 4: Teaching Scrolls
Cherokee idea 4: Cherokee Adaptability
Cilli idea 4: Slovenian Reformation
Colonial idea 4: Free Thinkers
Daimyo idea 2: The Bun and the Bu
Date idea 3: Renga Group
Deccani Sultanate idea 2: Promote Deccani Regional Identity
Epirote idea 4: Metropolis of Knowledge
Federation idea 4: Native Sign Language
Greek idea 7: Greek Enlightenment
Hamburger idea 5: School of the Johanneum
Hanseatic idea 6: Spread the Northern Style
Hessian idea 2: Marburg University
Hojo idea 3: Reform the Administration
Imagawa idea 3: History of the Imagawa
Korean idea 7: The Kyujanggak
Leonese idea 4: School of Salamanca
Lotharingian idea 4: New Carolingian Renaissance
Madyas idea 1: Hinilawod
Mainzian idea 2: Center of Religious Learning
Malaccan idea 7: Jawi Script
Mantuan idea 2: The Countess's Studiolo
Maravi idea 1: Fresh Perspectives
Mesoamerican idea 1: Olmec Legacy
Mexican idea 4: Casa de las Campanas
Milanese idea 1: Renaissance Prince
Moroccan idea 2: Sufi Marabouts
Mughal idea 3: Ibadat Khana - House of Worship
Native idea 2: Storytelling Tradition
Northumbrian idea 6: The Literary and Philosophical Society
Orleanaise idea 6: Calvin and Molière
PLC idea 2: Jagiellonian University
Pisan idea 3: The University of Pisa
Polotskian idea 3: Cultural Center
Savoyard idea 5: Savoyard Flexibility
Shawnee idea 4: Shaawanwaki Identity
Siamese idea 7: Education Reforms
Takeda idea 5: Koshu Hatto
Thüringian idea 6: Weimar Classicism
Tibetan idea 7: The Pale Earth School
Toki idea 6: Innovation Over Tradition
Trebizond idea 3: Legacy of the Alexiad
Tsutsui idea 7: Tradition and Innovation
Uesugi idea 7: Denoku no Ji
Welsh idea 6: Prifysgolion Cymru
Westphalian idea 1: Jewish Rights

Full Humanist

Clevian ambition
Granadan ambition
Samoan ambition
Transoxianian ambition

Humanist-Trade: Exchange of Ideas

−5%
—

Frankfurter idea 1: Establish the Buchmesse
Italian (minor) idea 1: Italian Renaissance
Kilwan idea 4: Cultural Melting Pot
Malayan Sultanate idea 4: Classical Malay
Swahili idea 4: Indian Ocean Melting Pot
Tuscan idea 1: Birthplace of the Renaissance

—
—
Several missions, decisions and events grant modifiers that affect idea cost.
Main article: National ideas

Every country has seven national ideas. These ideas do not cost any monarch points but instead are unlocked; one national idea is unlocked for every third idea bought normally from an idea group.
Many nations have unique national ideas while a large number of others have national ideas based upon a common geographic region or a shared culture. The rest of the nations, who lack unique NIs or don't share a common NI group, draw their national ideas from a common generic set of ideas.
National tradition

Every nation also starts with a national tradition: two abilities which define the history and heritage of the country.
National ambition

Countries also have a "national ambition", which is a bonus that is unlocked when a nation has gained all seven of its national ideas. This bonus is also unique for each country.
Please help with verifying or updating this section. It was last verified for

version

1.34.
Administrative power is required to unlock ideas within these groups.
Diplomatic power is required to unlock ideas within these groups.
For Exploration note the hidden bonuses when using explorers: each terra incognita sea zone revealed through naval exploration grants +1 naval tradition.
Please help with verifying or updating this section. It was last verified for

version

1.34.
Military power is required to unlock ideas within these groups.
Government-based idea groups
[
edit
|
edit source
]
General military idea groups
[
edit
|
edit source
]
Main article: List of idea group events

Idea group events are pulse based events. They occur at regular intervals (5 years) based on the nation's idea groups (not all groups are on the same interval).
In addition, the choice of ideas also has some influence in how often an event may happen, known as MTTH; meaning they can increase or decrease the likelihood of a certain to happened in over other events in their pulse group.
Please help with verifying or updating this section. It was last verified for

version

1.33.
The AI is dynamically determined according to the current conditions of the country.[4] To decide which idea group it should take, the AI employs a "weight system": each idea group is given a certain weight and the higher this weight is for an idea group, the higher the chances that the AI will choose it. The AI will never choose an idea group with a weight of 0.[5]