Golden Century
Jump to navigation
Jump to search

Golden Century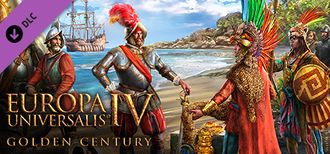 ---
Type
---
Release date / Patch
---
Store: Immersion pack
Golden Century is the 3rd immersion pack for EU4. It was announced on 2018-11-21 and was released on 2018-12-11[1]. Its release coincided with patch 1.28.
Minority Expulsion: Settle your distant colonies with homeland minorities, promoting greater cohesion at home, while adding more diversity to your subject nations.
Establish Orders: Iberian nations can appoint Jesuit, Franciscan or Dominican clerics to govern their states to reduce unrest or ease conversion.
New Mission Trees: New missions and objectives for the nations of Iberia and Northwest Africa, including Spain and Andalusia.
Pirate Republics: Play as or combat against pirate nations in dangerous sea zones, with their own flavor and game style.
Flagships: Appoint a Flagship to lead your navy, adding combat and trade power to your fleets.
Naval Barrage: Use your ships to help besiege coastal forts by bombarding the walls.
The immersion pack comes with a content pack containing:
Iberian Ships UP: Adds 17 new ship models for the Iberian nations:
Berber Ships UP: Adds 17 new ship models for Berber nations:
Golden Century Music Pack: 10 minutes of original music inspired by the discovery of the New World.
An extensive rework of the game maps of Iberia, Northwest Africa and Mexico.
New updated generic missions for Maghrebi nations.
DLC mechanics integrated into base game[2]:

Increase Development feature will be available to all players (previously tied to Common Sense).
Transfer Occupation will be available to all players (previously tied to Art of War).
Main article: Developer diaries

All developer diaries about the Golden Century immersion pack, patch 1.28 (aka Spain), and patch 1.29 (aka Manchu).
Patch 1.29 (Manchu)
Patch 1.28 (Spain)