Tuscany
Jump to navigation
Jump to search

Tuscany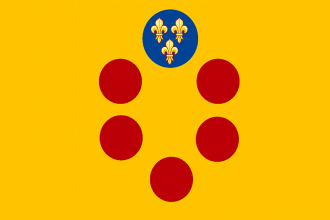 ---
Primary culture
Tuscan (Latin)
---
Capital province
Firenze (116)
---
Government
Autocracy

---
State religion
Catholic

---
Technology group
Western


Traditions:
−10% Development cost
+2 Yearly papal influence
---

Birthplace of the Renaissance
−5% Technology cost

−5% Idea cost
---

Condottieri
−15% Mercenary maintenance
---

Tuscan Banking
−0.5 Interest per annum
---

Patron of the Arts
+1 Yearly prestige
---

Porto Franco
+15% Trade efficiency
---

Administrative reforms
+10% Production efficiency
---

Territorial Ambition
+25% National manpower modifier
---

Ambition:
+5% Discipline
For the area, see Tuscany (area).
Tuscany is a formable nation on the Italian peninsula. It exists in game starts from 1569 to 1801 and later than 1814.
Formation
[
edit
]
id
Form Tuscany
Not since the days of the Margraviate of Tuscany has a single power controlled as much of the the Tuscan lands as we do. Let us adopt a new title to better reflect our new standing among the states of Italy.
---
Decisions
[
edit
]
id
Form Italian Nation
As the heart of the Renaissance, our nation is blossoming culturally. We have just entered the beginning of what looks like a prolonged artistic rebellion, especially in the field of architecture and literature. The cultural evolution is not aiding our country in maintaining peace within our borders however. Our country is continuously stricken by foreign states seeking power and territorial gain.
---
Missions
[
edit
]
Main article: Tuscan missions

Main article: Tuscan events

The Tuscan events centre around important historical figures of Tuscany and Florence. They also relate to the changes of the republican government.
| | |
| --- | --- |
| Nomadic technology group | |
| | |
| --- | --- |
| West African technology group | Air Mali |
| | |
| --- | --- |
| Mesoamerican technology group | Maya |
| | |
| --- | --- |
| South American technology group | Mapuche |