The Cossacks
Jump to navigation
Jump to search

The Cossacks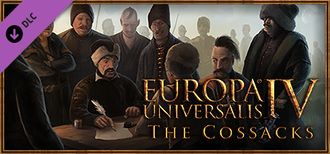 ---
Type
---
Release date / Patch
---
Store: Expansion
---
Store: Content pack
The Cossacks is the 7th expansion for Europa Universalis IV. It was announced on 2015-10-15[1]. It was released on 2015-12-01[2]. The expansion coincided with Patch 1.14.
New diplomatic options: let the world know what you think of your neighbours by setting a public attitude to foreign powers.
Tell the world what you want: designate neighbouring provinces as "places of interest", build trust with other nations, and entice allies with the promise of land for their support.
Tengri: Tengrism is now a syncretic faith, allowing it to tolerate certain secondary religions as if it were a national faith.
Horde unity and razing: nomadic nations now must pay attention to the horde unity of their tribes – a unity that can only be maintained by the occasional pillaging.
Improved culture changes: you can now restore a previous culture to a converted province, or convert a province you hold to a culture that is not your own.
Native policies: set your policy for colonial encounters with natives. Are you focused on quick subjugation, peaceful growth or trading advantages?
Improved espionage: new spy actions allow you to study the technology of more advanced countries and prod your rivals' subjects towards independence.
New diplomatic feedback: select provinces of interest, manage opinions, and a new trust and favors mechanic.
Nations can threaten war to demand provinces without going to war.
New Estates: 3 New estates to deal and manage in the realm -- the Cossacks, the Dhimmi, and the Tribes.
New Cossack Government: The Cossacks receive a new government form with unique interactions.
New convenience options for building armies/navies: build new units which will automatically merge into an existing army/navy & build units in provinces belonging to subjects.
Revanchism: allowing a nation to survive a loss and live to fight another day
A random New World update: requires Conquest of Paradise
Updated nation designer
Victory cards: another way to gain score in a multiplayer game
New areas and regions which give a better naming scheme for conquered lands
A Leaderboard which records top Ironman scores of players from around the world. (Must be logged into Paradox account to use.)
New colonial trade goods system that shows player chances of discovering specific goods in uncolonized provinces.
Cultural unions have been reworked.
The estates mechanic, along with the 3 basic estates (burghers, clergy, and nobility), was integrated into the base game as part of patch 1.26. As a compensation, the DLC received the Sich Rada government type - a unique cossack government with the following government interactions: 'Receive Fleeing Serfs', 'Organize Raiding Parties' and 'Raise Cossack Host'[3].
Main article: Developer diaries

All developer diaries about the The Cossacks expansion, patch 1.14, and patch 1.15.
Patch 1.15
Patch 1.14
| No. | Title and Link | Description | Date |
| --- | --- | --- | --- |
| 15 | Random New World II | Random New World, Provinces and Scenarios, Dynamic Trade Nodes, Dynamic Naming | 2015-11-26 |
| 14 | New free features | Colonial trade goods, Cultural unions, Multiplayer changes and Achievement browser | 2015-11-19 |
| 13 | Threaten war and grants cores, claims and provinces | New diplomatic actions for threatening war and granting land to subjects | 2015-11-12 |
| 12 | Espionage, Spoils of War and Fort's Zone of Control | New espionage actions, distribution of spoils of war, changes in fort's zone of control, and permanent claims | 2015-11-05 |
| 11 | Convenience and interface improvements | Building directly to armies, constructing in subjects, country view improvements, and macrobuilder improvements | 2015-10-29 |
| 10 | Diplomatic Feedback | Provinces of interest, attitude, trust and favors, and calling allies | 2015-10-22 |
| 9 | Native Policies and Colonial Wars | Policies for colonies, colonial wars, and the conceding of colonial areas in peace deals | 2015-10-15 |
| 8 | Advanced Culture Change, Mercenaries and Naming your Heir | Cultures, naming Heirs, Mercenaries and Blocking Canals | 2015-10-08 |
| 7 | Estates | Estates system representing internal politics | 2015-10-01 |
| 6 | Steppe Hordes | Horde Unity, Razing, Tengri, Horde Units, Returning and Selling Provinces | 2015-09-24 |
| 5 | Ironman and Achievements | Ironman and Achievements Rework, Capital Development Discount, Revanchism | 2015-09-17 |
| 4 | Areas and Regions | New divisions of the map into areas, regions and super regions; regional naming for enclaves and overseas areas; and coloring of the wasteland provinces for dominant nations | 2015-09-10 |
| 3 | Victory Cards | Announcement of the new Victory Cards system, which will help to gain score in multiplayer | 2015-08-27 |
| 2 | Future Nation Designer Improvements | Upcoming improvements for Nation Designer including option to save a nation template | 2015-08-14 |
| 1 | A Whole Random New World | Announcement of Random New World remake that will be available for all CoP owners | 2015-07-09 |