We are conducting a survey to learn how we can improve the Paradox Wikis experience for our users. Please take the time to fill the Survey
Synthetics
Jump to navigation
Jump to search

Synthetics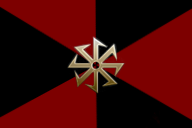 ---
Primary culture
---
Capital province
Aachen (1878) by script
---
Government
Republic

---
State religion
---
Technology group
Western


Traditions:
−85% Regiment cost
+50% Fire damage received
---

Logic Engines
−25% Technology cost
---

Loyalty Circuits
+20% Morale of armies
---

Durable
−25% Shock damage received
---

Mass Produced
+25% Land force limit modifier
−25% Recruitment time
---

Propaganda Machines
−20% Aggressive expansion impact
---

Harvesters
+20% National tax modifier
---

Emotion Emulators
+1 Diplomatic reputation
---

Ambition:
+15% Production efficiency
Synthetics are an easter egg state that is created using the console command syntheticdawn. They will substitute themselves to a country, which can be chosen by adding the country tag after the command's name. (Ex. syntheticdawn FRA will make Synthetics annex

France).
Synthetics have Easter events dedicated to them, notably one where

Maya can open a temporal rift to fight them, and also a unique set of ideas.
Context
[
edit
]
Another Paradox Interactive videogame, called Stellaris, features space colonization. In this context, an alien country ruled by robots (the Synthetics) found a primitive world, Earth, and decided to invade it. This easter egg has been preannounced by tweets on the Twitter pages of Europa Universalis IV and of Stellaris, through encrypted messages.
Footnotes
[
edit
]
| | |
| --- | --- |
| Nomadic technology group | |
| | |
| --- | --- |
| West African technology group | Air Mali |
| | |
| --- | --- |
| Mesoamerican technology group | Maya |
| | |
| --- | --- |
| South American technology group | Mapuche |