Mapuche
Jump to navigation
Jump to search

Mapuche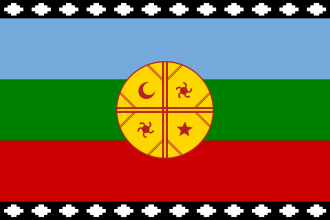 ---
Primary culture
Mapuche (Araucanian)
---
Capital province
Huillimapu (784)
---
Government
Clan Council

---
State religion
Animist

---
Technology group
South American


Traditions:
+10% National manpower modifier
+1 Attrition for enemies
---

Mapuche Pucaras
+15% Fort defense
---

Clava Clubs
+5% Discipline
---

Mapuche Tactics
+50% Army tradition from battles
---

Mapuche Weaving
+20% Trade steering
---

Ngillatun
−1 National unrest
---

Peace Parliaments
+1 Diplomatic reputation
---

Ruxafe
+1 Yearly prestige
---

Ambition:
+1 Diplomat
Mapuche is a native tribe located on the west coast of South America. It does not border any other tribes as of the 1444 starting date. It is the primary nation for the Mapuche culture. Historically, the Mapuche have been involved in battles against the Inca and even found themselves involved in the century-long Arauco War with Spain in the 1500s which would ultimately lead to their integration into Chile.
Main article: Mapuche events

Mapuche events focus on the historical conflict that occurred between their tribe and the Spanish.
Main article: New World missions

The Mapuche have no unique mission tree and instead use the generic new world mission tree.
| | |
| --- | --- |
| South American technology group | Mapuche |
| | |
| --- | --- |
| West African technology group | Air Mali |
| | |
| --- | --- |
| Nomadic technology group | |
| | |
| --- | --- |
| Mesoamerican technology group | Maya |