Livonian Order
From Europa Universalis 4 Wiki

Livonian Order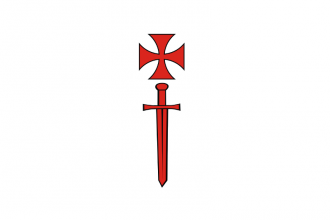 ---
Primary culture
Prussian (Germanic)
---
Capital province
Livland (37)
---
Government
Monastic Order

---
State religion
Catholic

---
Technology group
Western

Notes:
For
Christian

theocracies.
---

Traditions:
+1 Missionary
+15% Manpower recovery speed
---

Holy Order
+5% Discipline
---

Church Administration
−10% Stability cost modifier
−10% Core-creation cost
---

True Defender of the Faith
+25% Fort defense
---

Let No Man Tolerate the Witch
+2% Missionary strength
---

Onward Christian Soldiers
+10% National garrison growth
+10% Garrison size
---

Turn the Other Cheek
+1 Attrition for enemies
---

Render onto Caesar
+10% National tax modifier
---

Ambition:
−10% Culture conversion cost
The Livonian Order is a large Monastic Order based in the Baltics. It lies on the coast of the Baltic sea and borders

Teutonic Order to the southwest,

Lithuania to the south,

Novgorod to the east, and contains

Riga as an enclave within it's borders. It is a historical friend of the

Teutonic Order. It is able to form Kurland.
Form Kurland
[
edit
]
Reform into Kurland
The Northern Crusade has long come to an end. Our Crusader identity will soon bring us no more than nothing and maybe one day, it will eventually become a burden... By secularizing the state and reforming it into a duchy which is led by the former Grandmaster and his knights - now the Duke and his vassals - we can rouse the state from decadence and ameliorate our diplomatic situation.
---
Potential requirements

Playing with normal or historical nations
Was never an end-game tag

The country:

is either the Livonian Order or Riga.
does not have formed_courland_flag

Kurland does not exist.
If the country is AI-controlled then it:

Allow

The country:

---

Effects

The country:

Every neighbouring monarchy:
Strategy
[
edit
]
Achievements
[
edit
]

As Teutonic Order or Livonian Order, own all of Russia as core provinces and convert it to Catholic.
| | |
| --- | --- |
| Nomadic technology group | |
| | |
| --- | --- |
| Central African technology group | Mutapa |
| | |
| --- | --- |
| East African technology group | Kilwa |
| | |
| --- | --- |
| West African technology group | Mali |
| | |
| --- | --- |
| Mesoamerican technology group | Maya |