Ladakh
Jump to navigation
Jump to search

Ladakh
---
Primary culture
Tibetan (Tibetan)
---
Capital province
Ladakh (2074)
---
Government
Tribal Monarchy

---
State religion
Vajrayana

---
Technology group
Indian

| | |
| --- | --- |
| | Please help with verifying or updating this infobox. It was last verified for version 1.33. |
---

Traditions:
+2 Tolerance of the true faith
+1 Diplomatic relation
---

The Two Kingdoms of Ladakh
+1 Yearly prestige
---

Fortified Mountain Cities
−20% Fort maintenance
---

Wool from the Roof of the World
+10% Goods produced modifier
---

Construction of Great Monasteries
−10% Construction cost
---

La dvags rgyal rabs
−10% Stability cost modifier
---

A Kingdom United
+1 Yearly legitimacy
---

Invite Far-Away Traders
+10% Trade efficiency
---

Ambition:
+20% Fort defense
Ladakh is located in the Kashmir area of India.
In 1444, it borders

Yarkand to the North,

Kashmir and

Kangra to the South,

Timurids to the West and
Guge to the East.
As a Vajrayana country with the Tibetan culture, Ladakh can form

Tibet.
id
Form Tibetan Nation
Please help with verifying or updating this infobox. It was last verified for

version

1.33.
---
The Tibetan Plateau was once united under an empire sprawling beyond it. By bringing together the Tibetan people once again, we can revive this legacy.
---
Potential requirements

Tibet does not exist.
The country:

If the country is AI-controlled then it:

Playing with normal or historical nations.

Allow

The country:

Lhasa (677) is part of a state.

---

Effects

The country:

If Lhasa (677) is part of the HRE, but its owner is not a member then:

Lhasa (677):

becomes the new capital of the owner country.
---
AI will always take this decision.
AI gives "high priority" (400) to this decision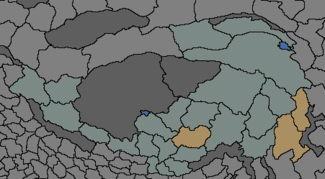 Start as Tribal nation in India and become a Steppe Horde.