King of Kings
Jump to navigation
Jump to search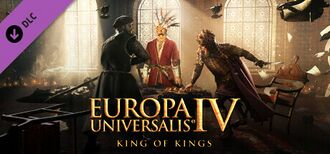 ---
Type
---
Release date / Patch
---
Store: Immersion pack
King of Kings is the 6th immersion pack for Europa Universalis IV. It was announced on 2023-09-12.[1]
This Immersion Pack to Europa Universalis IV adds greater depth and historical flavor to the nations surrounding the

Ottoman Empire. The focus is on the nations of

Persia, the

Mamluk Sultanate and the

Byzantine Empire as each fights to survive in a region rich with conflict, drama and diversity. King of Kings adds hundreds of new missions and events, as well as unique powers and characteristics for the major players in the region.
Main article: Developer diaries

All developer diaries about the King of Kings immersion pack and patch 1.36.
Patch 1.36
| No. | Title and Link | Description | Date |
| --- | --- | --- | --- |
| 1 | 1.36 Persia | New content for Persia | 2023-09-12 |