Kilwa
Jump to navigation
Jump to search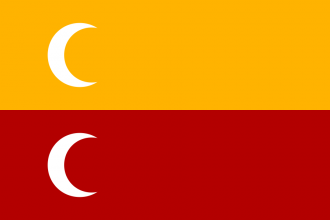 ---
Primary culture
Swahili (East Bantu)
---
Capital province
Kilwa (1196)
---
Government
Tribal Monarchy

---
State religion
Sunni

---
Technology group
East African

Notes:
For countries with

Swahili primary culture.
---

Traditions:
−20% Light ship cost
+25% Trade range
---

Indian Ocean Trade
+10% Trade efficiency
−10% Sailor maintenance
---

Monsoon Season
+1 Naval leader maneuver
---

Great Mosque of Kilwa
+1 Tolerance of true faith
---

Indian Ocean Melting Pot
−5% Idea costs
---

Recruit the Unbelievers
−15% Mercenary maintenance
---

Ivory Trade
+10% Production efficiency
---

Familiar Presence Abroad
+1 Diplomatic reputation
+1 Diplomatic relation
---

Ambition:
+10% Global trade power
Kilwa is a nation in East Africa. Along with its vassal,

Sofala, it owns most of the Swahili Coast. Aside from Sofala, it only borders
Makua to the west and

Mombasa to the north, while the Malagasy states lie across the sea. Due to relatively high development for this part of the world and better technology than most neighboring countries it starts in a perfect position for early expansion.
Main article: Kilwan events

Kilwan events focus on the conflict between orthodox Islam brought by foreign traders and its liberal interpretation prevalent in Kilwa.
Strategy
[
edit
]
Achievements
[
edit
]