Ireland

Ireland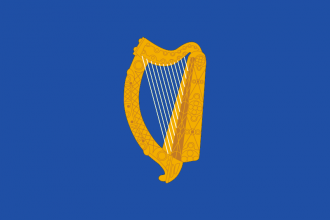 ---
Primary culture
Irish (Celtic)
---
Capital province
Pale (373)
---
Government
Feudal Monarchy

---
State religion
Catholic

---
Technology group
Western


Traditions:
+10% Morale of armies
+10% Trade efficiency
---

Irish Endurance
−10% Shock damage received
---

The Clanns
−20% Cost of advisors with ruler's culture
---

More Than Irish
−2 National unrest
---

Loyal Catholics
+1 Yearly papal influence
+2% Missionary strength vs heretics
---

Abundant Harvests
+10% Goods produced modifier
---
Unconquerable Ireland
−0.02 Monthly war exhaustion
---

Nationalized Gallowglass Septs
+5% Discipline
---

Ambition:
+1 Yearly legitimacy
+0.5 Yearly republican tradition
Ireland is a formable nation in the British Isles. It is usually created from one of the twelve 1444-starting Irish OPMs, and is a good step up for them. Unlike many other formable nations, however, it does not guarantee being anything more than a regional power. With only thirteen provinces that the formation affects, Ireland can be one of the weaker nations. That said, it does have a chance to be strong, especially in the New World.
Formation
Edit
 

This infobox may contain outdated information that is inaccurate for the current

version

of the game. The last version it was verified as up to date for was 1.25.
---
For decades England has attempted to subjugate the Irish population and take control of the island. To unite the Irish lands under a sole flag may be our only chance to repel them.
---
Achievements
Edit
Own and have cores on the British Isles as an Irish nation.
Central African technology group

 

 

Mutapa
East African technology group

 

 

Kilwa
West African technology group

 

 

Mali
Mesoamerican technology group

 

 

Maya
South American technology group

 

 

Mapuche