Ireland
Jump to navigation
Jump to search

Ireland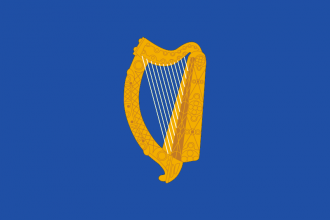 ---
Primary culture
Irish (Celtic)
---
Capital province
Pale (373)
---
Government
Feudal Nobility

---
State religion
Catholic

---
Technology group
Western

| | |
| --- | --- |
| | Please help with verifying or updating this infobox. It was last verified for version 1.33. |
---

Traditions:
+10% Morale of armies
+10% Trade efficiency
---

Irish Endurance
−10% Shock damage received
---

The Clanns
−20% Cost of advisors with ruler's culture
---

More Than Irish
−2 National unrest
---

Loyal Catholics
+1 Yearly papal influence
+2% Missionary strength vs heretics
---

Abundant Harvests
+10% Goods produced modifier
---

Unconquerable Ireland
−0.02 Monthly war exhaustion
---

Nationalized Gallowglass Septs
+5% Discipline
---

Ambition:
+1 Yearly legitimacy
+0.3 Yearly republican tradition
Ireland is a formable nation in the British Isles. It is usually created from one of the twelve 1444-starting Irish OPMs, and is a good step up for them. Unlike many other formable nations, however, it does not guarantee being anything more than a regional power. With only thirteen provinces that the formation affects, Ireland can be one of the weaker nations. That said, it does have a chance to be strong, especially in the New World.
id
Form Irish Nation
Please help with verifying or updating this infobox. It was last verified for

version

1.33.
---
For decades England has attempted to subjugate the Irish population and take control of the island. To unite the Irish lands under a sole flag may be our only chance to repel them.
---
---
AI will always take this decision
Main article: Irish missions


The below is one of many player suggested strategies for Ireland. Bear in mind, due to the dynamic nature of the game, it may unfold differently for other players.
In order to form Ireland, the player may start as any of the Irish minors. However, a start as

Kildare (due to having the highest development in the area, as well as the best ruler and heir) or

Desmond (due to having excellent military focused national ideas) is most recommended. For both nations, a good general is crucial to deal with the oft-seen Irish minors with one ally. Quickly declaring war on any minors that the player has a border with that have no allies, the player can rapidly stackwipe them and siege down their capital fort. Full annexation with money is advised. When facing the aforementioned two allied minors, a good strategy is to deal with one at a time, stackwiping them and leaving one unit on the province in order to prevent them from recruiting any more armies. Subsequently, the player can wait, recover, and stackwipe the other minor. Then it is a simple task to siege both of them down, and annexing both. This strategy should work until all of Ireland (minus the Pale and any minors allied to

Scotland or

England) have been annexed. While all of this is going on, make sure to improve relations with

Scotland and

France. Declare on the minors when their ally is enveloped in a war, and if they don't join it is easy to annex them, until you own all of Ireland except the Pale. When England is in a war and in debt, declaring for the Pale as a wargoal and sitting on Ulster can allow you to defeat English armies trying to cross easily due to crossing penalties and defensive terrain. After a few battles and time, England should be willing to peace out, allowing the player to unite the Emerald Isle.
After uniting the Irish, take over GB. then, go colonial, as it will bring great riches when you have valuable trade provinces in the North Sea and English Channel.

Own and have cores on the British Isles as an Irish nation.
| | |
| --- | --- |
| Nomadic technology group | |
| | |
| --- | --- |
| West African technology group | Air Mali |
| | |
| --- | --- |
| Mesoamerican technology group | Maya |
| | |
| --- | --- |
| South American technology group | Mapuche |