Hungary
From Europa Universalis 4 Wiki

Hungary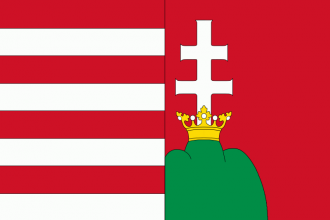 ---
Primary culture
Hungarian (Carpathian)
---
Capital province
Pest (153)
---
Government
Feudal Monarchy

---
State religion
Catholic

---
Technology group
Eastern



Traditions:
+20% Cavalry combat ability
+5% Recover army morale speed
---

A Renaissance Prince
−1 National unrest
---

Bulwark of Christianity
+20% National manpower modifier
---

Found the Black Army
+5% Discipline
---

Reformed Coinage
+10% National tax modifier
---

Curtail the Freedom of the Peasantry
+10% Production efficiency
---

Strengthen the Towns
+25% Domestic trade power
---

Create the Estates General
Negative religious tolerance no longer gives any penalties. Heretic and heathen provinces do not give us any penalty to religious unity.
---


Ambition:
+1 Leader without upkeep
Hungary is a large nation in Central Europe. It borders numerous nations, most importantly

Austria, the

Ottomans, and

Poland. Hungary starts with an interregnum.
Missions
[
edit
]
Main article: Hungarian missions

Hungary's missions focus on reconquering lands, should they be lost.
Main article: Hungarian events

Hungary's events are centered around various historical events in their history, with many of them focusing on their personal union with Austria. Additionally, Hungary gains a number of events related to one of its greatest kings, Matthias Corvinus.
Decisions
[
edit
]
Abolish the Black Army
The Black Army is a source of constant expenses and is detested by our nobility. Loyalty bought with silver can be lost just as cheaply. Let us do away with the Black Army and instead let the reliable armies of the realm fight for us.
---
Potential requirements

Playing with normal or historical nations

The country has the modifier "Black Army".

Allow

The country is not at war.

---

Effects

The country:

If the country has the nobility estate
---
Note that the nobility estate also loses its

−10%
influence modifier for having the modifier
"Black Army"
.
Strategy
[
edit
]
HRE Hungary: At the beggining hire a diplomatic reputanion advisor, take papal points from clergy estate (later on take +1 diplomatic reputation from the holy see). You should ally Austria and any other nations and max out your relationts (it would be advised to ally HRE electors so, there will be a higher chanse they will vote for you.) When you can, you should take the "Trusthworthy Allies" mission. I'd suggest don't start any wars to minimise Agressive Expension impact on the eceltor. Also you should ally every elector that might vote for you, even if it means losing some diplomatic points. When you hopefully become emperror, you should ally Muscoy/Russia and take out Poland/Commonwealth.
Achievements
[
edit
]

As Hungary, own all of Austria as core provinces.
| | |
| --- | --- |
| Nomadic technology group | |
| | |
| --- | --- |
| Central African technology group | Mutapa |
| | |
| --- | --- |
| East African technology group | Kilwa |
| | |
| --- | --- |
| West African technology group | Mali |
| | |
| --- | --- |
| Mesoamerican technology group | Maya |