Flanders
Jump to navigation
Jump to search

Flanders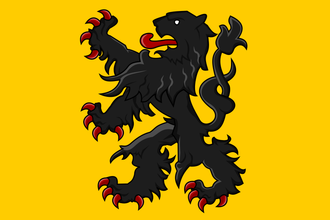 ---
Primary culture
Flemish (Germanic)
---
Capital province
Brugge (90)
---
Government
Feudal Nobility

---
State religion
Catholic

---
Technology group
Western

| | |
| --- | --- |
| | Please help with verifying or updating this infobox. It was last verified for version 1.33. |
---

Traditions:
+10% Goods produced modifier
−10% Institution embracement cost
---

Flemish Cloth
+15% Production efficiency
---

Land Reclamation
−10% Development cost
---

Beeldenstorm
+2% Missionary strength vs. heretics
---

Flemish Innovation
+10% Institution spread
---
North Sea Shipyards
−20% Light ship cost
---

Flemish Academics
−5% Technology cost
---

Noose-Bearers
+1 Attrition for enemies
---

Ambition:
+10% Trade efficiency
Flanders is a three-province nation in Western Europe that starts off as a junior partner under

Burgundy, along with

Brabant and

Holland. Contrary to Brabant and Holland, Flanders is not part of the Holy Roman Empire in 1444.
id
Form Dutch Nation
Please help with verifying or updating this infobox. It was last verified for

version

1.33.
---
The Dutch are emerging as one of Europe's most capable naval and colonial powers. Lucrative trade opportunities, locally and overseas, have resulted in a swift evolution for the country into one of the first capitalist countries in the world.
---
Potential requirements

The country:

If the country is AI-controlled then it:

Playing with normal or historical nations.

Allow

The Netherlands do not exist
The country:

---

Effects

The country:
---
AI will always take this decision unless it is Burgundy
AI gives "high priority" (400) to this decision
Main article: Flemish missions

Flemish missions focus on conquering the Lowlands, developing the region, and colonization.
| | |
| --- | --- |
| Nomadic technology group | |
| | |
| --- | --- |
| West African technology group | Air Mali |
| | |
| --- | --- |
| Mesoamerican technology group | Maya |
| | |
| --- | --- |
| South American technology group | Mapuche |