Cyprus
Jump to navigation
Jump to search

Cyprus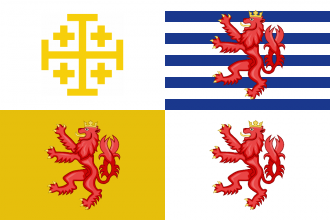 ---
Primary culture
Francien (French)
---
Capital province
Cyprus (321)
---
Government
Feudal Nobility

---
State religion
Catholic

---
Technology group
Western


Traditions:
−20% Galley cost
+4 Tolerance of heretics
---

King of Jerusalem
+0.5 Yearly legitimacy
−25% Cost to fabricate claims
---

Frankish Crusaders
+0.5 Yearly army tradition
---

Commandaria Wine
+10% Production efficiency
---

Lusignan Diplomacy
+1 Diplomatic reputation
---

Cypriot Fortifications
+25% Fort defense
---

Repel the Corsairs
+20% Galley combat ability
---

Raid Turkish Commerce
+10% Embargo efficiency
+15%

Privateer efficiency
---

Ambition:
+33% Naval force limit modifier
The Kingdom of Cyprus is a Crusader state in the Levant, located on the Eastern Mediterranean island of the same name. At the 1444 start, their independence is guaranteed by the

Mamluks. Much like

The Knights,

Naxos and

Athens being feudal Christian states created by Western European crusaders in Asia Minor and Greece during the Crusades, Cyprus' Francien culture and Catholic religion are at odds with its Greek Orthodox population.
Missions
[
edit
]
Main article: Crusader missions

Main article: Cypriot events

Decisions
[
edit
]
id
Reestablish The Kingdom of Jerusalem
Rejoice! Holy Jerusalem is again in Christian hands - our Christian hands. The Pope has informed us that if we were to reestablish The Kingdom of Jerusalem, our salvation would be assured.
---
---
The AI will never enact this decision.
Strategy
[
edit
]
Achievements
[
edit
]

Form the Kingdom of Jerusalem as Cyprus or The Knights.
References
[
edit
]
↑ 1.0 1.1 The mission Restore the Hospitallers is available to the other former crusader states ( Athens, Naxos, Epirus, Cyprus and The Knights) when Emperor is enabled
| | |
| --- | --- |
| Nomadic technology group | |
| | |
| --- | --- |
| West African technology group | Air Mali |
| | |
| --- | --- |
| Mesoamerican technology group | Maya |
| | |
| --- | --- |
| South American technology group | Mapuche |