The wiki's contest has ended. Thanks to all who have participated and congratulations to the winners!
Bavarian missions
Jump to navigation
Jump to search
| | |
| --- | --- |
| | Please help improve this article or section by expanding it with: Full mission details. |
This is a list of all missions of Bavarian nations[1], which are:
It requires

Emperor expansion for the mission tree to be full.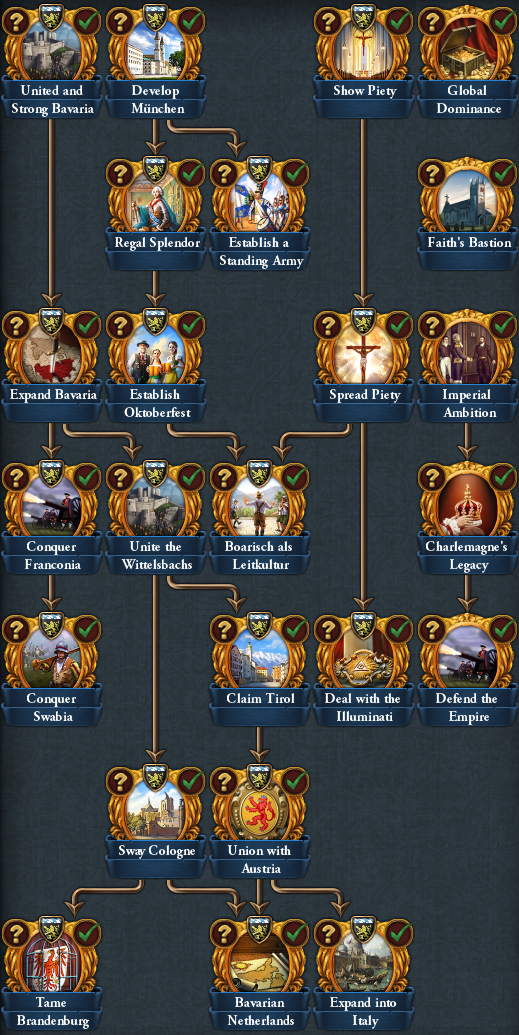 Clicking on a mission icon leads to the appropriate table row. "Repeat" action to return.
Without

Emperor, Bavaria has access to generic missions, and one branch of these missions[2], listed here:
National missions
[
edit
]
Bavarian Conquests
[
edit
]
Mission
Completion requirements
Effects
Prerequisites
United and Strong Bavaria
Is Bavaria

Country's total army size is at least 100% of the force limit

All owned provinces:

Country gains claims on the following provinces:

Oberpfalz
Salzburg
Regensburg

Country gets "Bavaria Reunited" for 20 years, giving the following effects:

Expand Bavaria
Country owns at least 10 cities

One of the following provinces is either owned by Bavaria or its non-tributary subjects:

Oberpfalz
Salzburg
Regensburg

If able to form a Union with The Palatinate,

If not able to form union with the Palatinate:

Country gains permanent claims on the following:

Lower Franconia area
Upper Franconia area

United and Strong Bavaria
Conquer Franconia
Country or its non-tributary subjects own 6 provinces in the following areas:

Lower Franconia area
Upper Franconia area

Country gains 20 prestige

Country gets "Bavarian Ambition" for 20 years, giving the following effects:

Country gains permanent claims on the following:

West Swabia area
East Swabia area

Expand Bavaria
Conquer Swabia
Country or its non-tributary subjects own 6 provinces in the following areas:

West Swabia area
East Swabia area

Country gains the following:
Conquer Franconia
Unite the Wittelsbaschs
Country or its non-tributary subjects own all provinces in the Palatinate area

The Palatinate does not exist or is a subject of Bavaria

Country gains the following:

Palatnate area gets "Efficient Integration" for 20 years, giving -0.05 monthly autonomy change

Expand Bavaria
Sway Cologne
Köln

Province owner is in Christian religion group
Is owned by Bavaria or its non-Tributary Subjects

The Event "The Cologne Secundogeniture" happens

If able to form a Union with Brandenburg,

If not able to form union with Brandenburg:

Unite the Wittelsbaschs
Tame Brandenburg
All provinces in the following areas are owned by Bavaria or its non-tributary subject:
Bavaria gets "Brandenburg Tamed" for 20 years, granting
Sway Cologne
Claim Tirol
Country or its non-tributary subjects own 2 provinces in the following areas:

One of the following must be true:

Tirol area:

Lose -15% Local autonomy
Lose 10 years of Seperatism

If able to form a Union with Austria,

If not able to form union with Austria:

Bavaria gains permanent claims on the following:
Austria Proper area
Inner Austria area

Unite the Wittelsbaschs
Union with Austria
Country or its non-tributary subjects own all provinces in the following areas:

Austria Proper area
Inner Austria area

Gain 20

Bavaria gains permanent claims on the following:

Frisia area
Holland area
South Brabant area
North Brabant area
Venetia area
Cariniola area

Claim Tirol
Bavarian Netherlands
Country or its non-tributary subjects own 12 provinces in the following areas:

Frisia area
Holland area
South Brabant area
North Brabant area

Union with Austria

Sway Cologne

Expand into Italy
Country owns 8 provinces in the following areas:

Venetia area
Cariniola area

Union with Austria
Bavarian Prestige
[
edit
]
Mission
Completion requirements
Effects
Prerequisites
Develop München
Capital:

Development at least 25
"Capital" has at least 5 buildings

Center of Trade level in "capital" increased by 1
Establish a Standing Army
Develop München
Regal Splendor
Develop München
Establish Oktoberfest
Regal Splendor
Show Piety
Spread Piety
Show Piety
Boarisch als Leitkultur
Establish Oktoberfest

Spread Piety

Deal with the Illuminati
Spread Piety
Regional missions
[
edit
]
European missions
[
edit
]
Mission
Completion requirements
Effects
Prerequisites
Global Dominance
Country has the most Trade power in its home node, which is the highest valued trade node in the world.
Country gains +30 prestige

Country gets the modifier "World Renowned" for 20 years, giving the following effect:

Faith's Bastion
It is not the Age of Discovery

The country:

Country gets the modifier "Armor of Righteousness" for 15 years, giving the following effects:
Holy Roman Empire missions
[
edit
]
Mission
Completion requirements
Effects
Prerequisites
Imperial Ambition
The country is part of the Holy Roman Empire

The country has at least 2 Electors voting for country to become Emperor

The country gains +10 Prestige

The country gets the modifier "Imperial Graces" for 15 years, giving the following effects:

Charlemagne's Legacy
Ruler of the country is Holy Roman Emperor
The country gets the modifier "Imperator Romanorum" for 15 years, giving the following effect:
Imperial Ambition
Defend the Empire
Ruler of the country is Holy Roman Emperor

The Imperial reform "Call for Reichsreform" is enacted

No provinces in the Empire are under the control of a non-member state (directly or indirectly through a subject)

The country gains:

The country gets the modifier "Imperial Unity" for 15 years, giving the following effect:

Charlemagne's Legacy
References
[
edit
]