Baltic Crusader
Jump to navigation
Jump to search

Possible if
The player's country:
Achieved if
The player's country: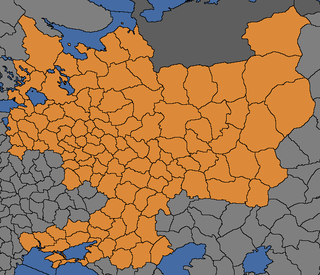 Baltic Crusader is an achievement available if the player starts as

Teutonic Order or

Livonian Order. The goal is to conquer Russia and convert it to the Catholic faith. The Teutonic Order is the strongest of the two, and thus the easier.

Muscovy is the biggest obstacle to the conquest. It starts as one of the biggest military powers in Europe, but it will only grow progressively stronger during the game due to the conquest of

Novgorod and the steppe hordes. Therefore, one has to move very fast before Muscovy is out of reach.
Furthermore, neither the Teutonic Order nor the Livonian Order has a lot of space to expand to keep pace with Muscovy other than each other. To the west lies the Holy Roman Empire, to the north the united

Denmark,

Norway and

Sweden and to the south

Poland and

Lithuania.
It is advised to start the game by conquering/vassalizing the other order while improving relations with

Austria in order to join the HRE. Joining the HRE is an advantage for to two reasons.
The possibility to expand into Pomerania.
The protection against Poland.
Afterwards one can wait until Novgorod have only a few provinces left and vassalize them. Then one can fight Muscovy to give Novgorod its cores back.
The natural allies for both Livonian Order and Teutonic Order are

Hungary in the beginning to oppose Poland, and Austria or Sweden to oppose Muscovy. Denmark can also be a very good ally but has unfortunately a tendency to ally with Muscovy.

Ottomans can also be a viable alternative.