Andalusia
From Europa Universalis 4 Wiki

Andalusia
---
Primary culture
Andalusian (Iberian)
---
Capital province
Córdoba (225)
---
Government
Iqta

---
State religion
Sunni

---
Technology group
Muslim
For the region, see Andalusia (region).

Andalusia is a formable country that can be formed by

Granada and all Muslim countries with Andalusian/Maghrebi as primary culture. The nation that forms Andalusia will retain its national ideas.
Formation
[
edit
]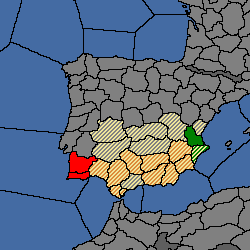 Restore Al-Andalus
Once all of Iberia was ruled by the glorious Muslim rulers of Andalusia. Let us undo the shameful Christian Reconquista and retake the lands of our ancestors.
---
Potential requirements

The country:

If the country is AI-controlled then:

it can not be a former colonial nation.
it must have at least 6 cities and must own at least 1 province in Upper or Lower Andalucia.

Allow

Andalusia does not exist.
The country:

is not a subject nation other than a tributary state.
is not at war.
is not a nomad nation.
has not a tribal government.
owns its core provinces: Murcia (221), Granada (223), Sevilla (224), Córdoba (225), Gibraltar (226), Jaén (1748), Cadiz (1749), Badajoz (218) and Almeria (222).
owns either its core provinces Algarve (230) and Beja (229) or Alicante (1750) and València (220).

---

Effects

The country:

If Andalusia:

does not have Andalusian as primary culture

then Andalusian becomes primary culture.

is a member of the Holy Roman Empire but not the emperor or an elector

then all its provinces are removed from the HRE.

Córdoba (225) becomes the capital.
| | |
| --- | --- |
| Nomadic technology group | |
| | |
| --- | --- |
| Central African technology group | Mutapa |
| | |
| --- | --- |
| East African technology group | Kilwa |
| | |
| --- | --- |
| Mesoamerican technology group | Maya |