Andalusia
Jump to navigation
Jump to search

Andalusia
---
Primary culture
Andalusian (Iberian)
---
Capital province
Córdoba (225)
---
Government
Iqta

---
State religion
Sunni

---
Technology group
Muslim

Traditions:
+15% Morale of armies
+25% Ship trade power
---

Stand Against the Reconquista
−15% Fire damage received
---

Taifa Administration
+100% Vassal force limit contribution
---

Alh Ulh Dhimma
+3 Tolerance of heathens
---

Legacy of Ibn Arabi
−10% Idea cost
−0.1% Monthly piety
---

Jund Settlements
+15% National manpower modifier
−15% Core-creation cost
---

Expeditionary Sentiment
+1 Colonist
---

Al Awasim
+10% Fort defense
−25% Fort maintenance on border with rival
---

Ambition:
+10% Goods produced modifier
For the region, see Andalusia (region).
Andalusia is a formable country that can be formed by

Granada and all Muslim countries with Andalusian/Maghrebi as primary culture.
Missions
[
edit
]
Main article: Andalusian missions

With

Golden Century Andalusia has a unique set of missions.
Formation
[
edit
]
id
Restore Al-Andalus
Once all of Iberia was ruled by the glorious Muslim rulers of Andalusia. Let us undo the shameful Christian Reconquista and retake the lands of our ancestors.
---
Potential requirements

The country:

If the country is AI-controlled then:

Allow

Andalusia does not exist.
The country:

is not a subject nation other than a tributary state.
is not at war.
is not a nomad nation.
has not a tribal government.
owns its core provinces:

Murcia (221)
Granada (223)
Sevilla (224)
Córdoba (225)
Gibraltar (226)
Jaén (1748)
Cadiz (1749)
Almería (222)
Albacete (4547)
Huelva (4548)

owns either its core provinces:

Beja (229) and Algarve (230)
Alicante (1750) and Xàtiva (4549)

---

Effects

If Córdoba (225) is part of the HRE, but its owner is not a member then:

Córdoba (225):

becomes the new capital of the owner country.

The country:

becomes Andalusia.
gets new missions.
gets the country modifier "Increased Centralization" for 10 years with the following effects:
Gets a permanent claim on:

every not-owned province in Toledo, Upper and Lower Andalucia areas.
Badajoz (218), València (220), Alicante (1750) and Caceres (1747)

If Andalusia:

is a member of the Holy Roman Empire but not the emperor or an elector:

then all its provinces are removed from the HRE.

does not have Andalusian as primary culture

then Andalusian becomes primary culture.

has tribal government
does not have custom ideas

If the 'Golden Century' DLC is active: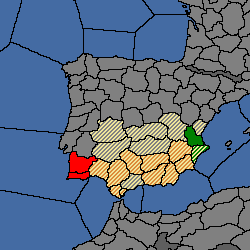 Strategy
[
edit
]
Achievements
[
edit
]

As Granada, form Andalusia and reconquer all of Iberia.

Starting as Mzab, Touggourt or Djerid, reform Al-Andalus.
| | |
| --- | --- |
| Nomadic technology group | |
| | |
| --- | --- |
| West African technology group | Air Mali |
| | |
| --- | --- |
| Mesoamerican technology group | Maya |
| | |
| --- | --- |
| South American technology group | Mapuche |